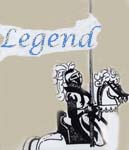 Check Status Bar for Call Names!
Am. Can. Ch. Cricket's Trinket of Erayna ROMX
Ch. Legend's Winter Ice of Primo
Ch. Legend's Spreading The Word
Ch. Legend's Contessa de Roulette
Ch. Legend Bragin Rites Of Paray
"Piper"
Ch. Legend's Spreading the Word
Breeder/Owner: Erayna Beckman
"Piper's" beauty is much more than skin deep; she is loving, but SASSY! Her movement in the ring is something to behold when she struts her stuff; she moves with great confidence and pride. "Piper" is definitely "spreading the word," and is true to her registered name. She is one of the five that were given the recognition of an Award of Merit at the Bichon Frise Club of America National show in 2000.

Pedigree
Am. Can. Ch. Cabochan Batmadison Marquis

Ch. Yoannewyn's Hela Va Scorcher
Ch. Dove-Cote's White Tornado
Am. Can. Ch. Vassaly's Yoannewyn Amelia
Craigdale Espana
Yoannewyn Cap't Barnstable
Am. Can. Ch. Kibbatts Craigdale Joy
Ch. Legend's Winter Holiday
Am. Can. Ch. Baccarat's Ice
Ch. Sea Star's Beau Brummel
Ch. Primo's Baccarat
Am. Can. BISS Ch. Cricket's Trinket of Erayna ROMX
Ch. Kay's Excalibur Lancelot

Salutaire's La Blanc Cricket