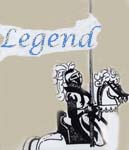 Check Status Bar for Call Names!
New Legendís Get Off My Cloud of Lore
Ch. Legend's Once In A Blue Moon
Ch. Legend's Faraway Moon Shadow
Ch. Legend's Imagine King of Jazz
Ch. Legend's Hotter Than Hades
Ch. Legend's Wishing On A Star
Ch. Legend's Feature Attraction
"Ben"
Am. and Int'l Champion Legend's Feature Attraction
Breeder: Erayna Beckman
Owners: Robert and Sandy Salmone
Personality Plus! Ben exudes the bichon temperament. Always happy, friendly, and full of himself. In the show ring he also shined. Holding his head high and proud, as he should. Balance, size and movement, he has it all. When showing he knew that he was the "Feature Attraction".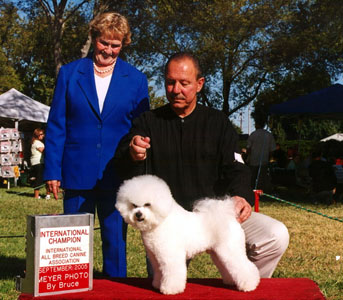 Pedigree
Ch. Soquel High Ridge "JR" Junior
BIS BISS Ch. Special Times Just Right ROMX
Ch. Dreams Came True Oliver
Ch. Special Times Temptations
Ch. Kay's Princess Cosette ROM
Ch Deja Vu Aki Fairchild
Ch. Kay's Sparkle Plenty
Ch. Legend's Quintessential
BIS/BISS Ch. Paray's I Told You So
Multi-BIS Am. Can.Ch Sterling Rumor Has It ROMX
Ch. Prancing Full Of Cuddles
BISS Am. Can. Ch Cricket's Trinket of Erayna ROMX
Ch. Kay's Excalibur Lancelot
Salutaire's La Blanc Cricket